OK so before Christmas and all our dramas and illness we decided to redecorate our house, revamp bathroom and move the bedrooms round. Then because we were all ill and all over the place although we had the money in place to do the majority of the work in one go we never quite got round to it. This week when I've been laid up with flu I've taken to scouring the net, brochures and magazines for ideas, and quite frankly, I'm no further forward.
I have chosen and purchased all the bedroom blinds, a toilet seat and bathroom cabinet. That's it!
I have a fair idea of what I want for the bedrooms but no vision for the hall whatsoever. We have a papered feature wall just now which we paid a decorator to do the week before Caleb was born and it was a total botch job. We've lived with it as long as we can. I have this idea in my head of brightening it all up. It's very dark Damson right now and I don't like it at all. I have searched and searched for a paper I like and have come up with nothing. Not a jot. I refuse to pay extortionate rates for any of the stuff we buy either as I want to do so much on a budget but if the price was right and it was cute great. Nothing jumps out at me at all. Its the first time ever on decor that I've drawn a total blank on something. I've decorated every house I've ever had and always known exactly what I wanted.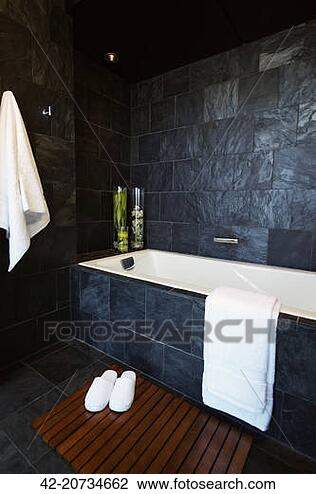 My Vision.
Next problem, the bathroom. We have a plain white bathroom suite but this horrid wet room liner on the walls that we have wanted to do something with for ages and again, never had time or money. So I have been trawling the net and DIY shops for tiles. I want big, slate coloured wall and floor tiles and chrome fittings. The fixtures and fittings I have chosen and know what I want but I have no clue where to get tiles. I feel like everything I see for slate tones is vastly more expensive than any other tiles. I don't want solid slate just slate effect tiles. Its driving me nuts. The firm who're doing the work are coming on Tuesday to measure up and see what works entailed and I feel like I'm floundering with this all. You'd think it'd be perfectly simple to find a grey slate wall and floor tile that doesn't cost £30+ a square meter.
I'm starting to feel like I will never get anything started with any of this.
HELP!!!!!!